Welcome!
Visiting campus is the best way to experience living and learning like a Mountaineer! Our events give you the opportunity to meet our faculty, tour campus, and learn what it's like to be a member of the Appalachian community. While you're here, you can also learn more about majors and programs, scholarships, financial aid, the admissions process.
App Near You
Your admission counselor may be traveling to an area near you! Find your counselor and view the travel schedule, then register! This is a great opportunity to meet your counselor, learn about Appalachian and explore opportunities.
Transfer students, check out our Lunch & Learn opportunities to see if we are coming to your campus.
Campus map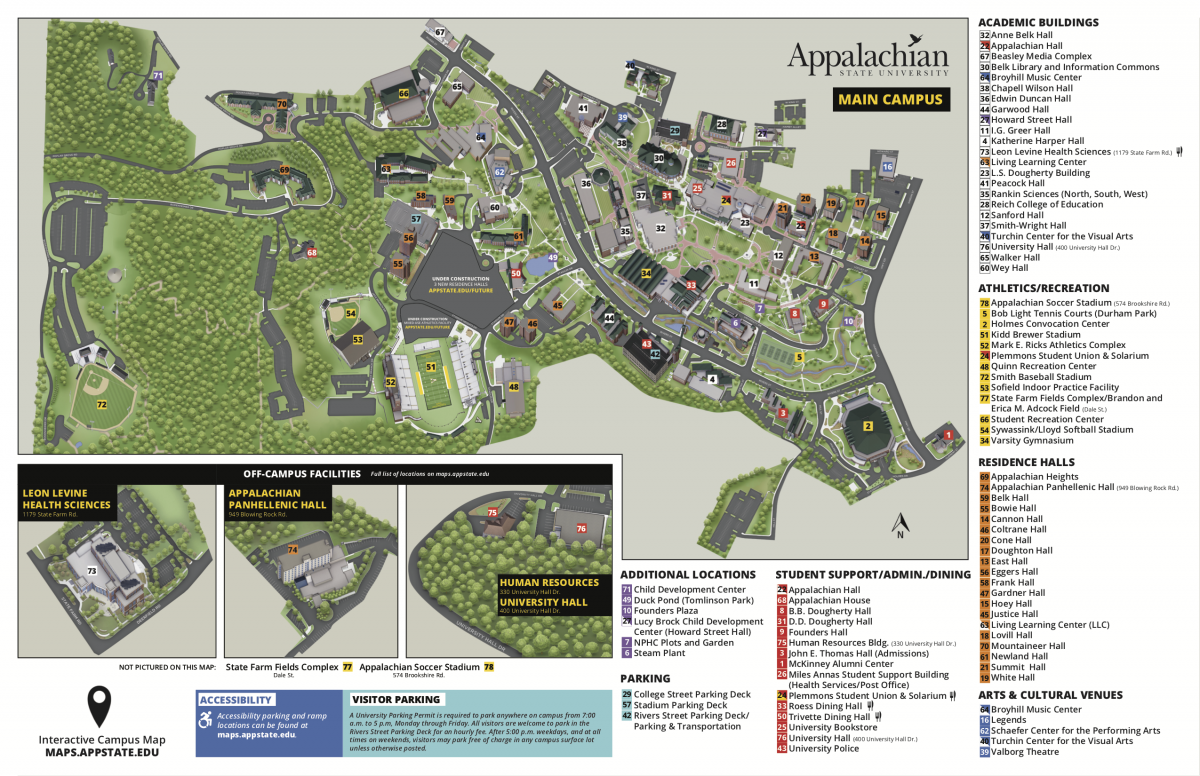 Download and print our campus map.
You can also view our interactive map on your mobile device!
Upcoming admissions events
This visit opportunity is specifically for students that have already been admitted to Appalachian. This visit includes a presentation, discussion of enrollment steps, and a walking campus tour led by a student ambassador.

Register for an admitted student visit today!
Join us for an informative day designed just for high school students and prospective transfer students. Meet our faculty, tour campus, and learn more about majors and programs, scholarships, financial aid, the admissions process and more! Come see what it's like to be a member of the Appalachian community. Learn more and register today!
Are you interested in transferring to Appalachian? Join us for a short, fun and informative session to get you started on the right track for admission to Appalachian State University. Learn why you should become a Mountaineer, when the best time is to apply and details about transfer admission requirements and advising tips. Bring lots of questions – view dates and register soon!
Connect with your admission counselor
Your admission counselor will help guide you through the process of becoming a Mountaineer. We can't wait to meet you!
Self-guided tour
Can't make it for one of our scheduled campus tours?
Download the self-guided tour to print or use on your phone! The self-guided tour hits the highlights and shares information about different places on campus. You can also access our virtual tour from anywhere!
Parking
Parking information for your event will be emailed to you in the reminder email you will receive a few days before your visit. Campus parking is complimentary for all Admissions visit programs. Directions to the Office of Admissions can be accessed via Google Maps. The physical address for the Office of Admissions is 287 Rivers Street, John E. Thomas Hall, Boone, NC 28608.
Can't make it to campus? Take the virtual tour!
Accommodations
The Office of Admissions has accessible seating options but is not able to provide wheelchairs for personal use. It is recommended that guests with limited mobility work with a medical supply store or pharmacy for short term wheelchair or mobility device options/rentals.

Individuals requesting interpreter services or assistive listening devices should submit their requests at least two weeks prior to their visit to the Office of Disability Resources at 828-262-3056 or odr@appstate.edu.

For more information on appropriate accommodations due to a disability or specific ADA need, visit the Office of Disability Resources.