Coming to college, it is really difficult to find a balance where you can maintain a healthy lifestyle. Fortunately, Food Services offers many balanced meal options in all of the dining halls on campus. Appalachian State also has three locations on campus where you can sneak in a quick workout between classes. The stress of school can sometimes get overwhelming, and it is important that everyone finds an effective way to deal with these stressors. Personally, I deal with my stress by exercising. It is a great way to think and blow off some steam while also doing something healthy for your body! Luckily, Appalachian has wonderful facilities that allows all students to have the opportunity to get the physical exercise they need.
The Student Recreation Center is the largest facility and is located on the west side of Appalachian's campus. Some of the SRC's features include the basketball gym with multiple courts, an indoor rock climbing wall, a weight floor and a cardio room. There are also many additional rooms available for the physical education courses offered. I frequently visit the SRC because of the various opportunities for physical exercise! Many of my friends regularly use the rock climbing wall because it is a great place to go and be with friends while doing your workout.
Quinn is another gym that features a weight room, several basketball courts, cardio machines and multiple workout classes each day. Lastly, Mt. Mitchell Fitness Center is conveniently located in the Plemmons Student Union and is the perfect location for a fast workout due to its convenient location.UREC does a great job maintaining facilities on campus that make working out fun and effective. Being able to easily access the gyms on campus has made my college experience much more enjoyable!


Hannah Emerson
Junior, history, secondary education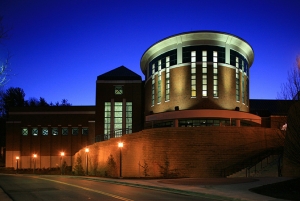 Tags: