Boone is a wonderful place year-round, but I especially enjoy the late fall and winter months when the cold weather rolls in. While some people dislike the cold and wish to stay inside, I highly recommend getting outside and participating in winter sports such as skiing or snowboarding. These are activities that Appalachian State University students should take advantage of, because we live so close to several ski resorts/mountains: Sugar Mountain, Beech Mountain and Appalachian Ski Mountain. Engaging in these activities during the winter can enable students to keep an active, healthy lifestyle. It also enables you to meet new people and gain a greater appreciation for the outdoors.
Skiing and snowboarding are great ways to meet new people, especially through the ski/snowboard clubs that are offered here at Appalachian. Anyone can join the team and participate in club sports! These are excellent ways to enjoy the colder months in Boone and take advantage of the opportunities we have to go to ski resorts in our area. When going to the mountain resorts, you can go in groups with friends or other club members. This enables you to make new friends and connections that will last you a lifetime. Winter Sports are also an excellent way to escape the stress of school and relax. There is nothing better than going skiing or snowboarding with friends!
One concern people may have is that skiing and snowboarding is very expensive, but luckily, students are offered discounts for lift tickets and rentals at places such as App Ski Mountain. This makes skiing/snowboarding very affordable and accessible to students. There are also classes offered for beginners, so anyone can learn to enjoy winter sports! Students should take these opportunities to go try something new or meet some new people. The winter can be cold in Boone, so why not take advantage of the cold and go ski or snowboard!
Hunter Burkitt
Junior, communication studies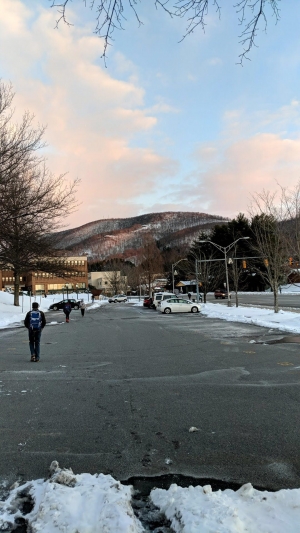 Tags: