The end of the fall semester is by far the most stressful time of the year. With exams, homework and project deadlines getting closer, you will definitely find yourself in the library a large majority of the time. With all of this stress however, comes an amazing time of snow and most importantly, no class. Once exams are over and your final grades are posted, school lets out usually until the first week of of January. During this time, the campus cafeterias and dorms all close up and most people are forced to go home. However, if you have an apartment, you have the option of staying up for a few more weeks to enjoy Boone! For the past two years I have taken this route and stayed in Boone. Although cold, there is so much to do in the High Country during the holiday season.
Blowing Rock, North Carolina, is only a 15-minute drive away from campus and has beautiful holiday decorations! With the lights and a lively downtown scene, you can spend hours walking around and eating with friends. Closer to New Years, the town sets up a small ice skating rink across from the park. For only $10 a person you can skate around for as long as you like. Great idea for a date night!
All of the scenic overlooks along the Blue Ridge Parkway are also gorgeous in the winter, especially when it snows. Moses H. Cone Memorial Park boasts stunning views and seating for you to enjoy the scenery. Howards Knob arguably has the best view, overlooking the entire city of Boone. The only down part of this is that they are likely to close the park for safety reasons if it gets too cold. Make sure you have a car with four wheel drive and definitely be safe when choosing this option!
You also have the option of finding a job during these times. Although working can be stressful, with most of the students gone, this is absolutely the best time to work! Everywhere is looking for seasonal employees and most of the time you will be able to work as much as you want to make money for the spring semester!

Evan Hager
Senior, business management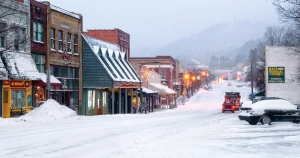 Tags: