The weather in Boone can always change very quickly, especially during the winter months when we get large accumulations of snow. If you plan to bring a car with you to college, I highly recommend getting something that has four-wheel drive capability. The roads can get icy and snow-covered very quickly, and commuting during the winter months can become difficult in a vehicle that doesn't have four-wheel drive. Generally, vehicles that are 4x4 capable are larger than your typical sedans, which means that they have higher safety ratings. Another thing to keep in mind is off-roading. A lot of people like to go on the off-road trails around the Boone area and it is a lot of fun. There are many offroad trails that lead to awesome hikes, such as Huntfish Falls, so having a vehicle with 4x4 capability can make commutes that are off the beaten path much easier.
Another important aspect to consider is traveling home. Many students live close by or within driving distance of Appalachian, meaning that a lot of our student population drives home for break. I am one of those students. During my freshman year here at Appalachian, I was still driving a Toyota Camry. This is a great car, but it had been snowing for a couple of days and the roads were very slick. As I was driving home on Highway 421, I hit a patch of snow and ice and slid off the road. Luckily, nobody was hurt and my car did not sustain any damage, but this was a sign that I needed an upgrade.
Some of the most popular vehicles in Boone are Subaru's. These are great vehicles for mountain weather because they have all wheel drive and they are great for getting around in the snow/ice. I personally own a Subaru Crosstrek and I absolutely love it. The all-wheel drive comes in handy all the time and it is a vehicle that enables me to go wherever I want because of the 4x4 capability. Some other popular vehicles are the trucks and SUVs. In the end, it comes down to what you want out of a vehicle and what you are comfortable with. If you do not want a big SUV, then stick with what you want to drive. By no means are you required to have a four-wheel drive vehicle, it just makes things easier when we have a lot of winter weather. The most important thing is being a safe driver and understanding how to drive in deep snow and ice!
Hunter Burkitt
Junior, communication studies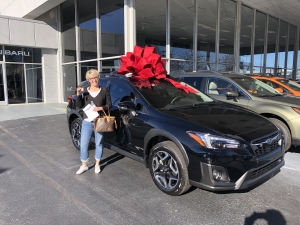 Tags: