Appalachian State University has over 400 clubs for students to join. This can be quite intimidating at first, especially when you are at club expo. When I was a first-year student, the first club I joined was the fly fishing club. I am an avid outdoorsman and have been fishing my entire life, so the fly fishing club seemed like a great fit! Upon meeting the members, I noticed that everyone was incredibly friendly and passionate about fishing and the local waterways around Boone. After joining the club, I learned that it was a great opportunity to meet new people, learn a lot about fishing, and help better the environment. If you enjoy the outdoors and fishing, this club may be a great fit for you.
One of the perks about this club is the trips we go on. During my freshman year, we drove to Bryson City and participated in the Costa Five Rivers Rally. This is a Costa Sunglasses sponsored event with Trout Unlimited that enables fishing clubs from several different universities to participate in a trash-collecting competition on local rivers. After collecting trash, we are able to fish all day. This is an annual club event, and it is a great way to meet new people, help the environment and catch some nice fish.
One question you may ask is the following: What if I don't have any gear or knowledge of the sport? The good news is that we have club rods/reels available for any member to rent out! Therefore, if you don't have gear, we have you covered! Along with this, we go on group outings to local spots around Boone on the weekends. This is a great opportunity to connect with new people and learn a lot about the sport of fly fishing. Don't be intimidated if you don't know a lot about fly fishing. Any club member would be willing and able to help anyone out who is interested. If you enjoy the outdoors and fishing, this club may be a great fit for you!
Hunter Burkitt
Junior, communication studies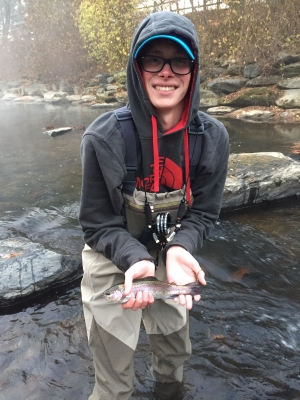 Tags: