This is my first semester at App, and I've honestly never been happier with the decision I made in March to attend! Half-way through the fall semester at my previous school, I decided that a business major was just something I did not want to pursue anymore. After lots of research and deliberation, I made the decision to apply to Appalachian State for the fall of 2017 to pursue apparel design and merchandising. I did not know it th,en but the decision I made on that hot, March day was quite possibly the best decision I have ever made.
A long time ago when I was in highschool, my older sister decided she wanted to transfer to Appalachian State. Since I was gonna be graduating and deciding on a school soon, I accompanied her on her transfer tour. From the moment we drove into Boone, I knew that I wanted to be here and be on this campus. Even walking around the freezing, rainy campus was breathtaking. We were standing right outside the Admissions Office, and I looked to my left and saw the fog lifting off the mountains as the sun pierced through the mist. It was the most breathtaking view I had ever seen. I was completely infatuated by this mountain school in this little, mountain town.
Appalachian is not just a school, but it is a wonderful community of so many different types of people. There is always something to do and always new people to meet. Whether you like hiking, eating, or going to the gym, there is always someone who would love to go hiking with you or get some dinner with you, or even go workout with you. I understand my "why I chose App" story makes no sense since I previously said I just transferred, but that tour was a big part of why I am at App now. Although I am still adjusting to life in the mountains as a transfer student, II can confidently say this is the place I am suppose to be, and I would not take back that decision for anything. I still am infatuated with my mountain school in my little, mountain town.

Justina Ruscio
Sophomore, apparel design & merchandising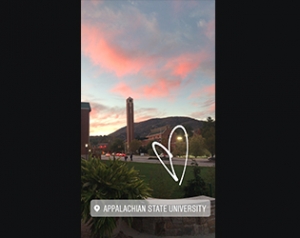 Tags: