When I tell people I am a student at Appalachian State, one of the first things they usually say is, "How can you stand the cold weather?" Appalachian State is often associated with cold weather because of our location in the mountains. When I was a student applying to colleges, I was initially attracted to Appalachian State because of the great education and welcoming environment; however, I too was extremely nervous about how to cope with the drastic difference in weather between Boone and my hometown, Raleigh, NC. When I unpacked my things in Coltrane Hall, I quickly realized that Boone's climate could never be a factor that would deter me from being a student at Appalachian.
During the summer and fall, Boone's weather is anything but humid. The warm days and breezy evenings encourage you to spend as much time outside as possible. Luckily, there are a lot of places to sit and study around campus and spend time with friends. Our campus is not far from the Blue Ridge Parkway, which has gorgeous lookouts and hiking trails that will allow you to take advantage of a beautiful Boone day. The weather during this time is much more comfortable than other areas because the humidity is so low.
When the cold months arrive, the best place to be is Boone. The snow that accumulates is breaktaking along the mountain range and rests on the branches of the trees. Boone locals are accustomed to the snow, so Appalachian knows exactly what precautions to take when we get a lot of snow. Not to mention, who doesn't love a snow day? On campus there are many opportunities to sled or play in the snow with your friends. If the weather in Boone is something that makes you nervous, do not worry. As someone who did not favor the snow, I can now confidently say I am a snowbird in Boone.


Hannah Emerson
Junior, history, secondary education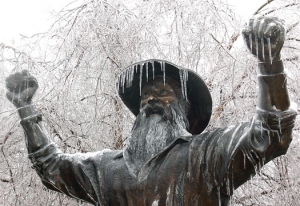 Tags: