One budget issue that often slips the minds of many college students is the meal plan. Every semester, some students find themselves with little to nothing left on their plan, leaving them with the question "where did all my money go?"
Upon arrival students are handed a card with two rules: spend it in the dining hall and, take it with you everywhere. Often the ease of a card, which is prepaid, makes it really easy to not think about how much you're spending on each individual meal. The ease of using this card often gets students into trouble because if prices aren't monitored, it's convenient to spend, spend, spend! Meals can easily be $10 or more, and if students eat in the halls three times a day, this price could quickly add up to more than $30 every day.
Monitoring meal prices doesn't have to be difficult, as long as you know where to get the best deals on campus and keep track (loosely) of your daily spending. For example, sushi is one of the most expensive items in the dining halls, priced between $7 and $10 per pack. Now, this isn't too bad on its own; however, expensive sushi coupled with a side or two and a drink vastly changes that price. This is not to say that one shouldn't treat YOSEF every once in a while, but it is super important to keep track of one's spending so you don't run out of money before the semester ends!
Well-priced options:
-Cascades: Beans & Rice ($2.50)
-Central Mountaineer Grille: 4 for $5 deal
-Dining Halls: Salads ($4-9)
The salad bars provide a flexible price opportunity, as they are priced by weight. Depending on toppings and bowl size, a salad can be a very affordable (an healthy) option!
-Cascades: Sandwich bar ($4-7)
The sandwich bar in cascades is a very affordable option and is great on the go. Dependent on the added extras (ex. Guacamole or hummus) the price can vary, but usually by very little.
Avoid spending on these food items too frequently:
-Dining Halls: Sushi ($7-12)
-Dining Halls: Bagels
Bagels on campus are roughly $4/piece (when you can get them at the store in a pack of 6 for $4-5).
And then cream cheese, butter, etc is an extra charge.
-Central Dining Hall: Chick-Fil-A ($3-10)
Chick-fil-A is not all that expensive; however, it is still a corporation and is taxed/priced as such. There are other comparable options in the dining hall that are cheaper.
-All campus coffee stops: ($3-$6)
Coffee/tea is very easy to purchase a lot, thus making the small cost add up. For example, two coffees per day = $6 or more dollars spent every day… so watch out!
There are lots of other great options on campus, these are just a few that I have gathered based on personal experience.
If you do find yourself running out of money toward the end of the semester, remember, you can always add more money to your plan, so don't worry! It is pretty easy to add more money yourself or buy it from other students to add to your plan. A final resource for food insecurity on campus is the food bank located in the basement of East Hall. The food bank is there to be used by those who need it and is one of the best resources for combating food insecurity on campus.

Carly Goodman
Sophomore, nursing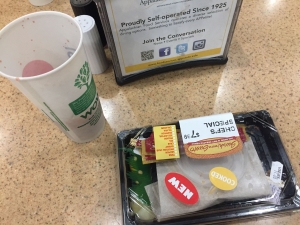 Tags: