In the technologically advanced society we live in today with easy access to digital sources of communication, social media is becoming increasingly useful. This is especially the case for the town of Boone, North Carolina! Whether you're looking to find friends, promote your brand, get a ride, or even sell some of your personal items for extra cash, Boone's social media pages have it all.
App State Classifieds is a private page on Facebook where people buy and sell personal items. I have sold numerous items: shoes, artwork, video games. I have had amazing experiences through the platform. The page boasts over 35,000 members ranging from alumni, to students and Boone locals, so you're sure to find something that sparks your interest.
Another extremely popular page within the Boone area found on Facebook is Boone Student Beeper. This is a student-run page with over 24,000 members that is essentially a voluntary designated driver forum. "Beepers" post on the wall if they are driving, then you call or text them with your address for a cheap ride! Most of the time, a ride will only be $2 per person, if you have more than one person in the car, or $3 if you are riding by yourself. You also have the option of posting on the page, if you want to be a driver. This holds a huge opportunity for a good amount of money with minimal stress or work involved.
No matter what you need around Appalachian State University, social media has it all! You're a simple click away from exciting Boone opportunities.

Evan Hager
Senior, business management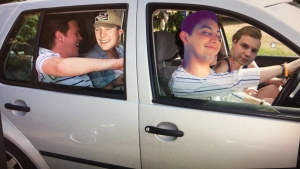 Tags: