1. Location, location, location!
2. The many opportunities for campus involvement
3. Small classroom sizes and passionate professors
4. Friendly people and awesome school spirit
5. Attention and dedication to incoming and transfer students
Everyone who I've spoken to about their experience while attending Appalachian State has said that their time here was foundational in their personal growth and that the town of Boone is a very special place. As I begin the second half of my third semester at App, I would have to say the same. I'd like to share with you my five reasons why I think you should attend App State.
The first reason is the town of Boone and the surrounding area is a beautiful place as a home away from home during your college experience. Boone has been ranked as one of the best college towns to live in. My favorite part about living in Boone is that within a 15-minute drive, I can be on the Blue Ridge Parkway taking in the beauty of the amazing scenery. To me, there is nothing better than going on a scenic drive to take a break from school work.
There are many opportunities for campus involvement at App, in fact there are more than 400 clubs and organizations that you can be a part of! During my first semester I was a part of a meditation club and became involved with the Advertising club which was a great fit with my major. Along with the many opportunities for campus involvement, the student to professor ratio is very good meaning that most of your classes will not have more than thirty students depending on the class. This provides the opportunity to have a more personable and high quality learning experience. All of my professors have been professionals in their fields and are constantly learning how to best serve their students; whenever I've had a question or concern they have been very quick and passionate to help me.
As a transfer student, I began my student experience at App as a junior. Before I began my first semester, I took advantage of the summer activities App has created to insure that transfer students have a smooth transition. I took part in Trailhead academy and First Ascent, you can learn more about these events on the App State website, I had a wonderful experience and highly recommend them. As you meet new people, make friends, and get to know your professors and faculty on campus, you'll find that everyone is very friendly and willing to help you succeed. With that being said, the school spirit here is very strong. You'll experience it first hand when you're sitting in the student section at one of our football games. Being a student at App gives you a sense of belonging and provides memories that you'll keep for a lifetime.






Cody Snow
Senior, advertising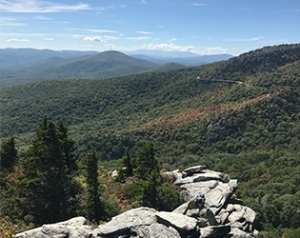 Tags: