My favorite thing that Boone has to offer us is the beautiful Blue Ridge Parkway. A short 15-minute drive down 421 or 321 will take you along the mesmerizing two lane roads full of views, adventures and some of the best hikes you could find on the East Coast. It's overwhelming to figure out where to stop along the way to find the hike with the best views and equally challenging hiking.
Here are the top four spots to stop along the parkway:
1. Rough Ridge
This hike is the first on the list because it is a must; as an Appalachian student, taking the picture at the top of the rock is a vital part of your experience as a Mountaineer. The hike itself isn't very long and is an ideal place to go with friends or even parents if they are visiting.

2. Beacon Heights
A view like no other will be discovered when headed to Beacon Heights; you will find yourself coming out of the trees onto an open rock and miles of views. This is a good place to bring a picnic, your friends to have a relaxing get away without the stressfulness of a hike or if you just need some good views in your life.

3. Grandfather Mountain
There are multiple trails inside the park at Grandfather Mountain and they are all equally challenging and beautiful. This park has a lot to offer from otters, to the 1-mile swinging bridge. This is the perfect place to spend a few hours hiking and exploring the fun things the park has for us. Bonus: April they have student discounts for admissions!

4. Linville Falls
Farther down the parkway you will find Linville, another park that has multiple hikes and one amazing waterfall. The good thing about this experience is that you can go to different vantage points along the mountain to see the falls from all angles. This is such a beautiful and easy going hike that will blow you away.





Elizabeth Faile
Senior, marketing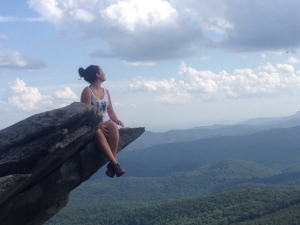 Tags: