There are many different things I love about Boone, but the one thing I love the most is fall in boone. Many people say that fall in boone brings the most perfect weather and, I definitely agree with that. There are so many fall activities that I love to do in Boone, so I want to share them with you!
Everyone loves a good pumpkin patch trip, and we have one of the best ones here in Boone. New River Corn Maze is one of the best pumpkin patches I have ever been to! Aside from the beautiful pumpkins they have to choose from, they have a fun corn maze and a tractor ride that my family and friends really enjoy. New River Corn Maze is family owned, and I feel like that is what makes the corn maze family oriented and fun for everyone.
Another fun activity is taking a drive or hike on the Blue Ridge Parkway. In the fall season, the leaves turn into beautiful colors. When the leaves change in Boone, everywhere you look is breathtaking. Going on the parkway during peak week, which is when the leaves change all at once, is one of the most beautiful things I have ever seen. Going on parkway, whether it's hiking or driving, is one of the most peaceful things I have ever experienced. When I feel stressed in the middle of my fall semester, I always drive to the parkway and take time to relax. The parkway makes me feel so at home.
Another fun fall activity for all ages is the Tweetsie Railroad Ghost Train. It is one of the many special events that Tweetsie offers throughout the seasons. The ghost train is open Friday and Saturday nights, Starting September 21 through October 27 from 7:30–11:30 p.m. I remember taking trips up to Boone when I was little to experience Tweetsie Railroad as well as the Ghost Train. Since becoming a student at Appalachian, I can say that it has been the same, if not more fun, as it was when I was little.
While fall in Boone has so much more to offer than the New River Corn Maze, the parkway during peak week and Tweetsie Railroad's Ghost Train, these are just some of my favorite activities. I hope, if you find yourself in Boone, you enjoy these activities as much as I do!


Breezy Howe
Senior, special education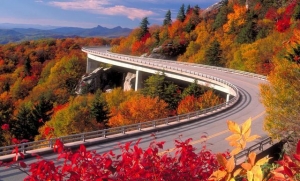 Tags: