College can be a tough place to balance work and home life, but something that can really help is having a community of like-minded individuals living and learning with you. Residential Learning Communities (RLC) can be a great way for students to get involved both in their halls and on campus academically.
I am currently living as a part of the Living Green RLC offered here on campus and it has helped make my first year at Appalachian an incredible experience!
First, I should probably address one glaring question… so what is an RLC?
A Residential Learning Community (RLC) is a community where students not only live but learn together as well. Most living communities incorporate a class into the student's schedule. For example, my assigned RLC class was an undergraduate seminar course called "Contemporary Green Living" regarding different areas of sustainability. Students also attend topic-focused group events and meet each semester to come up with new ideas for the RLC and ways to get involved!
Now, you may have other questions: How do I choose? Or, how do I apply?
Here at Appalachian, there are many different communities offered to students. Accommodating a wide variety of interest areas, there are lots of RLC's available. Each RLC has a certain focus pertaining to the interests and potential career path of students.
App State's current RLC list includes:
A.C.E.S. (first year/returning)
Active Living (first year/returning)
Art Haus (first year only)
ASUnity (first year/returning)
Brain Matters (first year/returning)
Business Exploration (first year only)
Early College (first year only)
Exploring Health Sciences (first year only)
Honors College (first year/returning)
Language & Culture (first year/returning)
Living Green (first year only)
Outdoor Community (first year only)
R.O.T.C. (first year/returning)
Service & Leadership (first year only)
Sophomore Year Experience (returning only)
Transfer Educators (first year only- transfer students)
Transfer RLC (first year only- transfer students)
Watauga Residential College (invitation only)
If you are interested in one (or multiple) of these living communities, be sure to check out each of their specific links and requirements at: https://housing.appstate.edu/rlc. Each living community is a little different, so be sure to check out what each one entails before applying. Applicants can only be accepted (have to choose) one RLC; however one can apply to up to three! My RLC has been a great way for me to get involved both on and off campus, allowing me to grow academically and socially with like-minded, tree huggers like myself! Go green & roll 'Neers!

Carly Goodman
Sophomore, nursing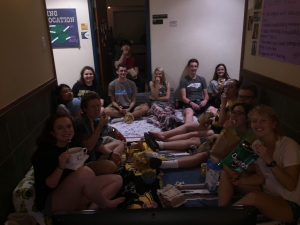 Tags: