Being a college student on a budget can be hard. Luckily, local Boone restaurants and bars make it easy to save money while enjoying amazing food and brews with friends! Local eateries have made it a point to set aside one day a week for discounted prices on all of the town's best:
Monday: Mondays are wing days up here in Boone. You have the option to head to Cafe Portofino's for ½ off wings, 50 cent wings at Elevation 3333, or 40 cent wings at Tapp Room! Both are delicious options and go-to spots after classes to start out the week.
Tuesday: Appalachian Mountain Brewery is definitely the evening favorite on Tuesdays. Not only do they have trivia, but also a special discount for local runners. Every Tuesday around 5:30 you can choose to run between 2-4 miles, and upon completion you will receive a ticket for either a free beer or two slices of pizza! Also, if you are the legal drinking age, make sure to head to Boone Saloon after you cool off for $5 PBR pitchers.
Wednesday: Tapp Room has the best tacos in the High Country on Wednesday nights! Two dollar tacos draw in students and residents from all over town and it is a sure fire way to finish Hump Day off right. High Country Lanes bowling alley also has discounted brews and group bowling on Wednesday nights!
Thursday: Thursday nights are huge social nights in Boone! Before heading to the Local and Rivers Street Ale House for amazing drink specials, make sure to stop by the Cardinal for the best burgers in town. They have single, double, and triple burgers for three, four and five dollars! Lost Province Brewery and AMB also have three dollar drafts until close.
Friday: On Friday nights, stop by Elevation 3333 for 50 cent wings and then make your way down the street to Ale House for some good ole fashioned karaoke.
No matter what you're into, there's ALWAYS something to do in Boone!

Evan Hager
Senior, business management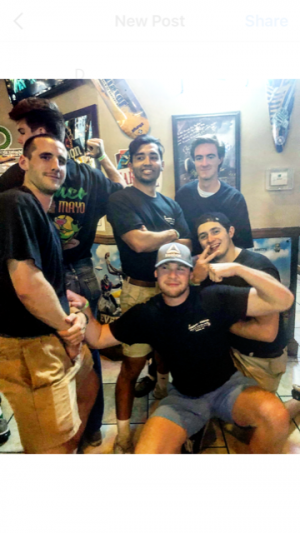 Tags: