I am a big breakfast person, I love everything about it: the warm, fluffy pancakes, the crunchy, salty hash browns, the sizzle of the bacon. All of it just makes my heart sing with happiness. There is just something so special about breakfast compared to all other meals. For instance, you can eat breakfast for literally every meal.
I don't know about you, but whenever my mom would get home later than usual from work, she would always suggest breakfast for dinner. My sisters and I were always more than happy to help along with the process. I would stir the pancake mix, my older sister would crack the and whisk the eggs, and my younger sister would sit at the island and watch in amazement as pancakes catapulted into the air and the smell of bacon filled the house like a crowd fills a stadium with cheers.
Along with my abnormal love for breakfast, I also love good restaurants. So good restaurants that feed into my love for breakfast are a must. Some Sundays ago, I was looking for a new place to take my friend who was in town for the weekend, and we stumbled upon the Sunrise Grill. This little place is nestled between a mini golf place and another restaurant off of 105. They offer a wonderful selection of breakfast items as well as lunch items, if you're into that sort of thing. If the food is not enough to draw you in, then the customer service just might do it.
I have been to the Sunrise Grill a total of three times, not all in the same weekend, (although, I am not above that) and each time I've gone, the service has been phenomenal. The servers really do care about your experience and want you to enjoy your meal. Speaking of meals, when I went I had their french toast which was nothing short of amazing, I've also had their savory items, and let me tell you, their sausage gravy is to die for.
Sunrise Grill is a great place to take your parents if they are visiting App; their prices are very reasonable and the food is worth it! Coming from a breakfast connoisseur, this place is on the top of my list! So if you're in the Boone area, be sure to try this place out – you won't regret it! P.S. Get the pancakes!

Justina Ruscio
Sophomore, management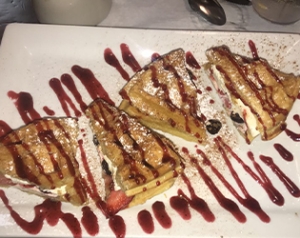 Tags: