When I was thinking about my college experience prior to heading to Boone, it included football games, new friends and countless new opportunities. When in high school, I was a part of the organization DECA, which shaped my decision to pursue my degree in marketing. Clubs and organizations had a special appeal to me when I was younger, which is why I thought college would be an even better opportunity for joining a more diverse set of them.
I knew prior to coming to App State that there were over 400 clubs that I could have the chance to join. When I attended the club expo event on campus, I came to realize only a few things stuck out on my mind. I can confidently say there is a club or organization for everyone out there if you look in the right place, that is what makes our campus so great. But my sophomore year, my friends and I thought we could bring something new to the scene: Spoon University.
Spoon University is a food only publication that is tailored towards college students, featuring recipes, college survival tips and restaurant spotlights. This was something that we had seen on campus around the country and thought App State could add to the community of food bloggers.
Spoon University is an organization that fosters a group of students to be leaders, innovators and creative in their writing, photography and business minds. There were three of us working to bring Spoon University to App State and it required us to prove that 300 students were interested in the organization. It was a challenge, but we have successfully been a chapter and organization for two years now. This club has brought me so much happiness and opportunity through friendships and campus engagement.
What I learned from starting the organization was that I needed that on campus involvement in my life. You can find your home in so many different places on App State's campus whether that be in Greek life, intramural sport or major related organizations. App State has a diverse amount of involvement opportunities and we all need that in our college careers. I have met friends and learned so many different leadership skills from starting this club my sophomore year.
Whether you find your niche at the club expo during your freshman year, or realize the type of club you want to bring to the school your senior year, clubs can alter your college experience for the better.


Elizabeth Faile
Senior, marketing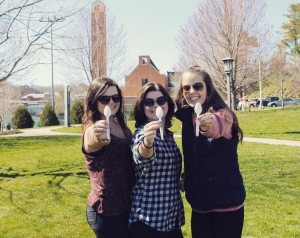 Tags: