Sorority life on Appalachian State's campus is very different than on any other college campus. Appalachian State has 10 active chapters, and, in the near future, we hope to see this number continue to increase. The 10 chapters include the following: Alpha Delta Pi, Alpha Gamma Delta, Alpha Omicron Pi, Alpha Phi, Chi Omega, Delta Zeta, Kappa Delta, Phi Mu, Sigma Kappa and Zeta Tau Alpha. Each organization has their own local and national philanthropy, maintains a 2.5 GPA or above, provides specific hours of service to our local Boone community and engages with our campus leaders.
Many leadership roles are available and ready to be taken advantage of. During my freshman year, I immediately took on a leadership position within my organization. My first position was serving as a Greek Week/Homecoming Planner. This position was a great first introduction to leadership within my sorority. The following year, I received a position on my executive board as the Membership Education VP. This position rewarded me with more work, and I was able to travel to three different cities to represent my organization.
My most recent position is on the Appalachian State Panhellenic Council as Vice President of Risk Reduction and Wellness. Panhellenic Council governs all sorority life on Appalachian State's campus. This position has introduced me to some of the most influential individuals on our campus. I serve alongside nine lovely ladies from different sororities on campus. In the fall, we will publicly disaffiliate to help younger ladies find their home in sorority life at Appalachian State!


Taylor Foulk
Junior, marketing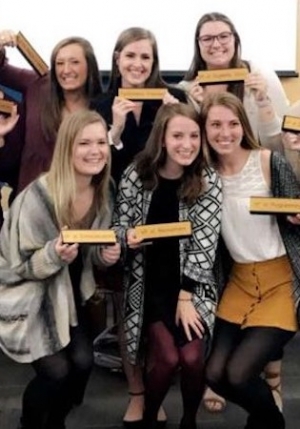 Tags: