Coming from El Salvador, futbol (soccer) is passion for everyone. You support your team until the last minute, and going to the stadium to see your team every Sunday is a tradition. I grew up going to the stadium to see my favorite team with my family, we always have been really passionate about soccer. I grew up like that – loving the sport.
I started playing as a little kid. When I moved to United States, I thought people did not play much soccer, but I was wrong. I joined my high school team in Chapel Hill. I played for four years as a midfielder. It was definitely one of the best experiences. When I came to college, I thought it was going to be different, but it wasn't. In fact, it was much harder to make the team because of all the people who tried out. However, being involved in the soccer team has been a great experience.
Getting involved in clubs around campus is definitely a good way to meet people and make friends. I believe becoming involved with the sport you like is a great way to get involved; it is a great experience to make new friends that are also your teammates.

Daniel Flores
Junior, finance & banking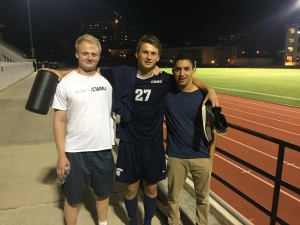 Tags: