If you're not from the mountains, snowboarding may seem like a foreign or intimidating sport to try out. That's exactly how I felt coming to Appalachian State University as a freshman. However, after only a few months of being immersed in the culture, I was fascinated with how many people were attracted to our small town of Boone just to board. So, I decided to try it out.
Boone has several mountain resorts within a 30 minute drive that are built specifically for snowboarding and skiing:
Appalachian Ski Mountain

Beech Mountain Resort

Sugar Mountain Resort
Each one has their own unique draws, but Appalachian offers a snowboarding class to students at Appalachian Ski Mountain. With my newfound interest in snowboarding, I decided to sign up for the beginners class during the spring semester of my freshman year. The class met one night a week from 6 p.m.-10 p.m., and had a bus that would take students up and down the mountain, if you didn't have a mode of transportation. Starting off, I was little shaky and had absolutely no idea what I was doing, but the instructors were all extremely helpful and understanding! All of the instructors are Appalachian Students and understand exactly how it feels to be a beginner. We learned how to board heel and toe side, how to stop, turn around, and pretty much all of the basics! In no time I was carving down the mountain with ease and eager to go down a harder slope! To this day I still snowboard frequently every winter and am looking forward to a great season starting in a few months. Also, I'm planning on taking the intermediate class next spring for my final semester as a Mountaineer!

Evan Hager
Senior, business management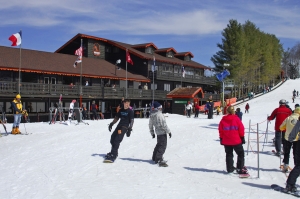 Tags: