Registering for classes can be very tricky. The registrar's office will post the courses in early fall and spring for that upcoming registration period. The more credits you have, the earlier you register. There are time slots allotted per hours that you have completed. This means that just almost all incoming freshman will register at one time, unless the individual had collected credits from an AP Prep test completed in high school.
Appalachian State University uses a program known as Degree Works which is an online program that allows students and counselors to actively work together to plan out the students courses to be taken. All registering is done via an online program called AppalNet which allows students to access this program anywhere with internet access. When you register for classes, students are constantly adding and dropping classes. This allows a lot of flexibility and gives students many opportunities to create the schedule they want.
My steps in registering for classes includes a quick visit to the College of Business' advising office to figure out which classes I need to take. After this, I plan out my schedule by researching the professors that teach the courses I need to take. Then, I write down how many spots are remaining in the class and the CRN which is a five digit code used when registering. When it is time for me to register, I enter my codes in the empty boxes, click submit, and I am all set!


Taylor Foulk
Senior, marketing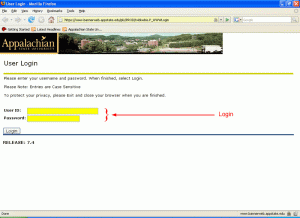 Tags: