Macado's is a great and affordable restaurant offering a wide range of food including: sandwiches, wings, and other entrees.
What makes this restaurant so great is that they offer a variety of different specials for each day of the week. Also, for students, money can be a crunch, and Macado's has many affordable options to choose from. You can enjoy going out to eat and not have to worry about breaking the bank. My personal favorite specials are the 10 wings for $4.44 on Monday from 4 p.m. to close and the $0.39 boneless wings on Thursday from 4-9 p.m. I love wings, and their wings are the best wings I've ever had. Their wings are offered in the following eight great flavors: buffalo hot sauce, teriyaki, sesame ginger, hot honey bbq, spicy thai, sweet red chili, Sweet Baby Ray's honey BBQ, mango habanero. My favorite is the hot honey bbq. You honestly can't go wrong with their wide range of specials offered. There's something for everyone!
Many employees at Macado's are college students which makes it a comfortable and friendly atmosphere. All the employees are very helpful, responsive and provide great customer service. Macado's is a popular restaurant and tends to be busy, especially during peak lunch and dinner hours; however, I've never had to wait on a table for longer than 10 minutes. The pace is very up-beat, and their customers are their main priority.
The location is also very conveniently located on King Street, which is easy walking distance from most of the dorms located on campus. Also, if you live farther away and walking isn't the best form of transportation, there is available parking located around the restaurant as well. they are open Saturday through Sunday. Their hours are 8 a.m. to 12:30 a.m. on Monday through Thursday and Sunday. Then on Friday and Saturday they are open 8 a.m. to 1:30 a.m.
Macado's' is a great place to eat, and I highly encourage everyone to check it out for themselves!


Emmie Smith
Sophomore, journalism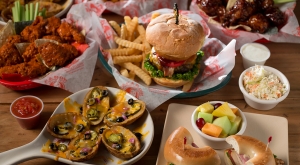 Tags: