When I first moved in at Appalachian State University, I knew I wanted to join Greek Life. I did not know many people at Appalachian and that's why I went through recruitment. Once I was in recruitment, I learned about all the volunteer opportunities that came with being in a sorority. I come from a family of volunteers and so I was really excited when I found out sororities are a family of volunteers as well. There are 10 active chapters here at Appalachian and each sorority has a philanthropy that they raise money for by hosting different events throughout the year. From Alpha Delta Pi's annual event, "Cheese Fries with ADPI's," to Sigma Kappa's annual event, "Chaco's and Tacos," this is an amazing way for every organization to raise money for their philanthropy and an awesome way to meet girls in other sororities.
My sorority's philanthropy is the Ronald Mcdonald House Charities. Ronald Mcdonald House Charities is basically a home away from home for little to no cost for families who have to travel far from home for their children who are sick or terminally ill. Being close to your family in a time like that is so important. Alpha Delta Pi at Appalachian supports the RMHC in Johnson City, Tennessee. Throughout the year, not only do we raise money through different events but we get to visit our RMH and support and show love to the families that are staying there. Aside from our events and raising money, we also partner with a fraternity each year and make crafts for the children that are being treated. We get to take these to the RMH and the families then take them to their children.
Every sorority's philanthropy is different and we all do different things to support our organizations and charities, but one similar thing is we all come together to support each other. Our goal is to make a difference in the lives of all people all over the world.


Breezy Howe
Senior, special education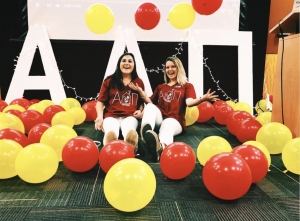 Tags: