Peak season: when Boone steals the spotlight and takes everyone's breath away.
Despite the heavy traffic created by tourists checking out our fall leaves, autumn in the High Country is something indescribable. Whether it is a drive down one of the many winding roads in Boone, a walk down King Street or a hike on the parkway, admiring the changing leaves is almost inevitable. Below are some of the many activities I enjoy during peak season in this beautiful, little mountain town:
Hiking on the parkway
Boone is quaintly located in the heart of the Blue Ridge Mountains. From Appalachian State University's campus, the entrance to the parkway is a short 10 minute drive. When the skies are clear, you can see up to 50 miles of breathtaking, scenic views of jaw-dropping landscape. In addition to the parkway, Boone is approximately a 20 to 30 minute drive from Linville. The Linville Gorge, or the "Grand Canyon of the East", lies within the Pisgah National Forest and ranges from elevations of about 1,300 feet to 4,000 feet of spectacular settings.
Walking around King Street
You do not always need to venture far to see fall foliage during peak season. King Street is located within walking distance from ASU's campus. The small downtown area of Boone is nestled between several mountains, allowing shoppers to admire Boone and its scenic glory.
Eating candy apples at Kilwins
Although Kilwins is technically in Blowing Rock, there is something about homemade candy apples and steaming hot chocolate that screams peak season. Kilwins sells homemade fudge, ice cream made from an original recipe and tons of treats made in house. From the moment you step through the front door, your senses will be abducted by the sweet aromas of fudge and homemade waffle cones.
Although I only listed a few, Boone offers numerous activities that should be taken advantage of during peak season. As those leaves of orange, red, yellow, and brown fall off the trees, the cold weather slowly creeps in; take advantage of this charming, mountain town during its most whimsical season.





Jennings Cool
Junior, public relations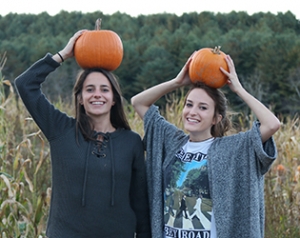 Tags: