One of the best things about coming to Appalachian State University is we are really close to the Blue Ridge Parkway. If you have never visited the parkway, you need to! Honestly, it should be one of the first thing you do when you come to Boone, North Carolina! It is only 20 minutes away from the university's campus. For me, it is one of the most relaxing places to visit and get away from all the noise of the city and university.
Just driving through the parkway is so much fun. Yoi get to see the most beautiful landscapes of the Appalachian Mountains. One of my favorite things to do while I'm on the parkway is go hiking! Obviously, as an Appalachian student you have to hike Rough Ridge. It is not a hard hike, yet it has an amazing view of the Blue Ridge Mountains ridgeline.
The parkway not only has a rich variety of hikes, but also features beautiful rivers and lakes. For example, the beautiful Price Lake. At Price Lake, you can fish and rent canoes for a really low cost. It is a great activity to have with friends. Now that I'm a senior, I can say that being close to the parkway has been one the best things about attending Appalachian!

Daniel Flores
Senior, finance & banking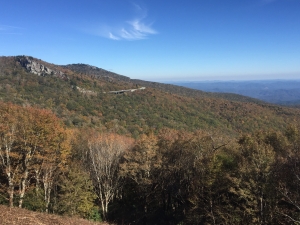 Tags: