There are countless things about the town of Boone that makes it so great. Like other college towns, Boone is home to many chains and other businesses that appeal to college students. However, Boone has many local businesses unique to the region which give it character and appeal to tourists. Being that Boone has many different aspects that appeal to people of all ages, it is a great town to visit or live in.

Appalachian State University. Boone is the home of the Appalachian State Mountaineers – some of the best people I know. Whether you are walking to class, home from the library, or even to work, the campus is absolutely beautiful during the day and night. Not to mention, every professor I have had at Appalachian has been supportive, encouraging, and wants students to succeed.

The weather. So many of my friends who chose to attend other schools always ask me how I survive the "freezing" weather in Boone, and I always tell them winter is actually the best time of year! The first snow of the year is such an exciting time because the ski slopes open, everything is prettier with a white blanket, and (sometimes) classes get cancelled. During the summer, the weather is perfect, and the trails are waiting to be hiked. In autumn, the leaves are breathtaking, and often cover the mountains in an orange and red blanket.

The people. In the four years that I have lived in Boone, I have met the people I know will be in my life for long-term. I have made friends when I expected to know no one and built relationships with people who I would've never even met if I hadn't lived here. Not only have I made friends, I have created a network of people with similar interests and programs of study composed of professors, business owners, and fellow students. In times of hardship, this community comes together and supports itself. There is so much love in Boone, and the community certainly shows that.

The scenery. Boone is nestled perfectly in the Blue Ridge Mountains and Pisgah National Forest. Each sunset and sunrise is differently beautiful, and the mountains around us provide views in every direction. During each and every season, the scenery remains beautiful. I know when it comes time to leave these mountains, I will miss them more than I currently realize. Not to mention, it is so much easier to drive in Boone than in bigger cities because there is more visibility!

Freedom of expression. Unlike other towns, Boone is home to many artists, students studying art related fields, and professors teaching art. There is a lot of room for freedom of expression in Boone without judgment. Take a visit to King Street, and you will see many small, local shops selling unique, creative pieces from jewelry to kitchenware.
Being a senior, I am dreading moving away from my favorite little mountain town in a couple of short months. I will certainly miss every aspect of Boone but especially this list. I know my friends at other schools think their college towns are better than Boone, but they have no idea because they have never lived here!


Emily Sawyer
Senior, marketing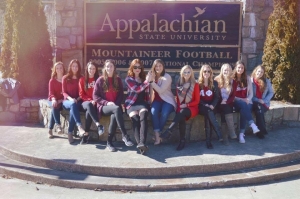 Tags: