When I came to Appalachian, one thing I knew I wanted to do was go abroad. Prior to coming to college, I wasn't able to travel as much as I wanted to. I had barely been out of the state, let alone the country, so when it came to location, the world was my oyster!
During my sophomore year, I spent large amounts of time in my spring semester doing research. I had to first decide where I wanted to go, and then begin searching for institutions in said country. I ultimately decided to study in the United Kingdom at the University of Sunderland in Sunderland, England. Before going abroad, I had also never been on a plane, and traveling to Sunderland meant three flights with very short layovers in between. There's something about arriving in the terminal of an international airport and realizing that you are shockingly and scarily on your own. I took a hackney carriage cab to my accommodation that I'd set up months before and when we arrived, it hit me. I really was in a foreign country on my own for a WHOLE SEMESTER!
The first thing I did was to get connected to the Wi-Fi and contact my friends and family back home to let them know I'd made it safely. I was living with other students who were studying abroad and my roommates included: Lisa and Clara from Germany, Erin from Canada, Tara from Australia, Kelsey from New York and Olivia from Washington, D.C. I enjoyed this good mix of different countries and personalities represented and we got to know each other pretty well throughout the semester. Although Great Britain is an English speaking country, I still experienced a fair amount of culture shock! I was often caught off guard by this fact but grew to love and appreciate everything about my experience.
During my first few weeks, I was very homesick. I knew there was a chance that would happen and the only way to combat that was to throw myself into the unknown and embrace everything Sunderland had to offer. There were many normal days filled with studying and late night library trips, as well as roommate (flat mate) bonding experiences but it was all so different, simply because I was doing it abroad. I was able to take few different excursions to surrounding countries and cities. I experienced Thanksgiving in a country that doesn't recognize it as a holiday, stayed in a hostel for the first time and even attended many football matches. My flat mates and I dressed as the Spice Girls for Halloween, shopped together often and made many a meal with one another. I managed to fit what seemed like an entire lifetime of memories into three months. It was the greatest experience Appalachian has been able to offer me and if given the opportunity, I think everyone should study abroad.




Kehyonah Graves
Senior, criminal justice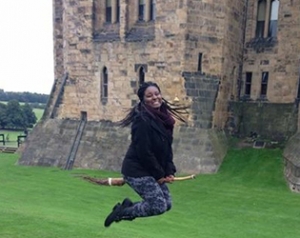 Tags: