"Do you know how much dogs cost? How are you gonna pay for that? Do you know how much attention dogs need?" These are just some of the many questions along with confused looks I got when I was adopting my dog. Honestly, when I first got my puppy, I was asking myself the exact same questions. I knew it would be hard, but when I was knee deep in fleas and filth, I was definitely asking myself why I did this.
A little over a year ago, I was living in an apartment complex with many dogs and cats roaming around. It seemed like everyone I knew or didn't know was either getting a dog or already had one. When my friend who fostered dogs for fun asked me to watch the puppy she was fostering for the day, I jumped at the opportunity. My friend came into my apartment and put a three-pound, brown chihuahua on the ground. I was nervous at first because I had never taken care of a puppy all on my own. As my day of babysitting ended, I realized this puppy had bonded with me in a way I didn't think possible. Therefore, I did what any rational person would do, and I texted my friend to tell her she couldn't have the dog back because I was keeping her.
Ever since that day, I have never once regretted my decision to press send on that text. Getting a dog was quite possibly the hardest, most rewarding, most wonderful thing I have ever done.However, being a dog mom has taught me so many things that I wouldn't trade them for the world.

Justina Ruscio
Sophomore, apparel design & merchandising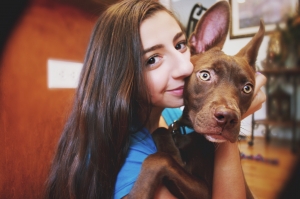 Tags: