Coming to college was scary for multiple reasons: a new town, new friends and a roommate. Coming to college not knowing anyone was scary enough, but imaging living in a room with someone new terrified me. For some people, sharing a room with someone might not have been a new thing, but it was for me. I was nervous about sharing a room with someone I barely knew. Multiple questions rolled through my head: "What if she doesn't like me?", "What if she can't sleep with the tv on or music playing?", "What if we completely clash with one another?". These were the questions that flooded my mind leading up to move-in day.
When the day had come, I was excited and anxious; however, after meeting my roommate and her family, I immediately felt at ease. After our parents left to go back home, we talked about our hometowns and how we were feeling about college. We both realized we had so much in common and decided it was going to be a great year. Meeting everyone on my hall during the same day was super exciting. After meeting, we all quickly became friends and did almost everything together. I always had someone to go to lunch with or someone to adventure around my new home with. I felt comfortable with this new family of mine.
Now as a junior, I can say I would do anything to go back to Hoey Hall and spend just one more night as a first year student. To wake up once more with the best roommate and hallmates would be a dream. One of the best feelings is seeing these people on campus and sharing a smile or a hug with a familiar face that made me feel so welcomed and loved throughout my entire first year here at Appalachian.


Breezy Howe
Junior, special education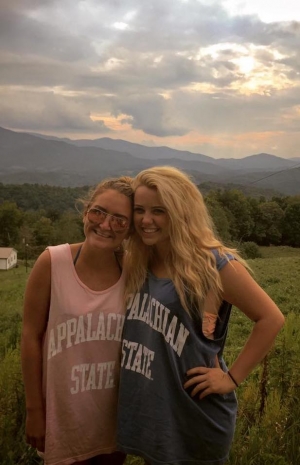 Tags: