Lodging in Boone, North Carolina, is always a concern for parents when they are planning on visiting for Parents Weekend, Move-In weekend, or a family trip, because Boone is such a small community and many fear the limitation of locations to lodge. In comparison to other college communities that are located next to or closely located by a large city, Boone is not. But this shall be no concern at all for your parents because although Boone is small, it is mighty. It provides lodging not only in Boone but additionally in surrounding areas such as Foscoe, Banner Elk, Blowing Rock and many more. We have more than 26 hotels in Boone that range in price from affordable to more expensive.
The following three hotels are the most popular for many families. These include the Hampton Inn & Suites, Courtyard Marriott, and the La Quinta Inn. Others include Country Inn, Super 8, and Fairfield Inn. Boone also has some neat lodging facilities that really focus on customer service, including the Meadowbrook Inn and the Inn at Crestwood.
A brand new addition to the Boone community is the The Horton Hotel and Rooftop Bar. This location just opened about two weeks ago and is a great boutique stay experience. When I visited the new hotel, they provided freshly baked cookies and hot cocoa! Many people prefer the experience of renting a cabin in Boone over the experience of staying in a hotel. Through rental agencies and websites, finding the perfect cozy spot to spend time with family and friends and take in the beautiful mountain views is pretty simple.
Regardless of where your family chooses to stay in Boone, having loved ones visit your college town is a memorable experience for all.


Taylor Foulk
Senior, marketing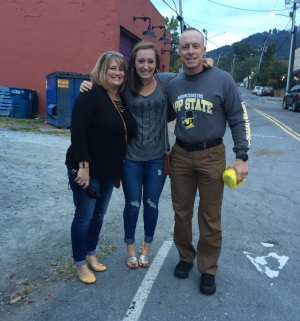 Tags: