My name is Kehyonah Graves, and I am a criminal justice major. I have a concentration in international studies with a minor in philosophy here at Appalachian State University. During the summer between my junior and senior year, I attended a program led by two professors from the Government and Justice Studies department, to New York City. The class, Urban Crime Prevention, was led by Dr. Catherine Marcum and Dr. Elicka Sparks and it was one of the greatest experiences of my life! The class was for first summer session, but it ran for a week of meetings in Boone, and the rest of the time was spent in NYC! There are a few things I should make you all aware of at this point so that you can understand my level of excitement. If you are not aware, App has a Loft in NYC and it is very nice! The convenience of the location becomes a selling point for many people, as it is in Lower Manhattan. Students can reserve beds or rooms in the loft, months in advance and they have a student rate available. The second thing I must mention, is that despite having a family who moved from New Jersey to North Carolina, prior to this, I had never stepped foot in New York. I was so elated when I was given the chance to participate in the course!
During the days of meeting in Boone, we did some readings and spent time talking about our expectations and the different places we would go to when in NYC. This time in Boone also allowed for my fellow classmates and me to bond and get to know one another. We talked quite a bit about New York City now, as compared to the 70s and 80s in the same city. This comparison set the basis of things we would learn about during our travels. Luckily enough, Dr. Marcum and Dr. Sparks had included the price of a sightseeing ticket booklet in our class price and all of our tourist visits were paid for! Taking a tour of JFK Customs, Macy's Loss Prevention, and even meeting with the Community Affairs Bureau of the New York Police Department were on the agenda.
After an almost 12 hour drive, (factoring in stops, tolls, and the abomination called traffic) we'd finally arrived! It was dark, but with all of the lights in New York, there was not a dark spot to be seen. I was literally breathless at the view I'd only seen in movies being right in front of my face. After spending some time marveling at the sights, we settled in after promises of an early morning. We were able to do all of the things I'd mentioned before and MORE! We also took time on the last day there to tour the 9/11 museum and even made it to the top of the Empire State building. Each of the visits gave us looks into different facets of security for an area as large as New York City. My experience was the perfect balance of work and being able to visit all of the tourist spots that I did! It was one of the greatest experiences I've had as a student at Appalachian, and I highly suggest that others take the opportunity to experience something similar!




Kehyonah Graves
Senior, criminal justice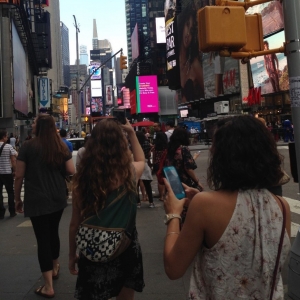 Tags: