As a first year student, I was involved in a program called L.E.A.D. Orientation, Linking Education and Diversity. This program allows students from different minorities and groups to move onto campus early and participate in different activities. It gives students time to get acclimated to campus before the rush of freshmen move in, be aware of internal and external resources available and to have fun getting to know other students! When I participated in the program, I met many people that I am still friends with today, including my very best friend.
After the weekend of fun was over, I was left with a lasting impression from the L.E.A.D guides! They were the older students who led us through the program and were responsible for us during that time. I realized that I wanted to be able to leave just as much as an impression on someone else as was left on me. This was the jumpstart of my love for mentoring! College can be a very busy and anxious time for students. Having people who are close to you in age tell you the ins and outs of the university and give you advice is very helpful!
Having a mentor and being allowed to mentor others has been the greatest part of my experience here at App State. I've had many opportunities both here at App State, and outside of our university to have a large and lasting impact on other people.
The bond one can form with someone who looks up to you, or asks you for advice, can be helpful and beneficial to both parties involved. It is a way to give back to the community and receive. These mentors can become some of your greatest friends and resources. Mentoring for me is a very fun and honest way to learn more about other people. Your mentoring can help someone else go forth and do the same thing!


Kehyonah Graves
Senior, criminal justice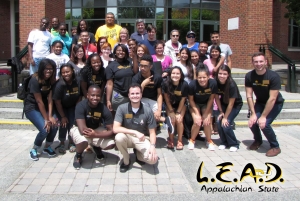 Tags: