When I first moved to North Carolina as a high school senior, I knew that I wanted to go to a four-year university, but I was working with a budget that would only allow for me to go to a in state public university. This left me with a dilemma; I knew nothing about colleges in North Carolina and I had only a few months to figure out where I wanted to spend the next four years of my life. I wanted a school that was affordable, had a student body had a lot of school spirit especially for their athletic programs, and just had a good "energy" to it. Little did I know that one of the first colleges I heard about from a fellow high school senior would fulfill all these things and more for me. That school was Appalachian State University.
When I saw what App's tuition and costs compared to other North Carolina public universities, I realized App State is one of the most affordable colleges in North Carolina. The more and more I looked into Appalachian, the more I began to fall in love with it.
One of the things that stood out the most to me was the fact that they had a Division I football team. Now, I personally do not play football, but I do love the event of going to a football game and rooting for your team. One of the key things I wanted from my college experience was to have a school that loved their sports teams and celebrated them, because I love the idea of camaraderie amongst all students. This was something I was told by many native North Carolinians was found at App. This checked another thing of my list for things I wanted for my college. When I attened Open House, I knew App State was the place for me.
I didn't know exactly what I was supposed to feel when I walked around campus to know if the energy was right, but within the first few steps on App's campus, I realized what I looking for. It's hard to describe how I interpreted App's atmosphere, but the best thing I can compare it to was a feeling of relief. App's atmosphere buzzed with the energy of college students and the town was alive with Mountaineer spirit. The campus felt comfortable.
App's campus made feel like I had found my home away from home where I could learn, explore and grow over the next four years. Little did I know all the amazing memories I would make, great friends I would meet, and the fantastic college experience I would have at App. Now, as a senior, I cherish these memories more than anything on this earth. I look back on my journey here so happy that I was able to find this amazing school that I call home.




Taylor Burgess
Senior, nursing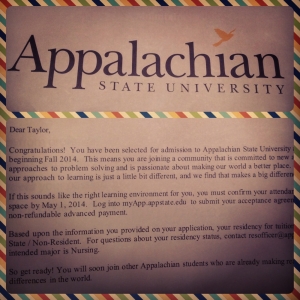 Tags: