When considering which college I wanted to attend, and which would best suit my dream to become an elementary education major, Appalachian State University was very high on a long list. I knew that I wanted to study elementary education after working with children for many years in high school. Appalachian has an excellent program, coupled with incredible professors and plenty of resources, and seemed like the perfect fit.
Upon coming to Appalachian, I discovered that my love for children did not match up with what I wanted to do with the rest of my life. I learned that being away from home made me want to venture out to different opportunities outside of what I was used to. This realization caused me to question my field of study and what exactly I wanted to do with my college degree. I chose to change my education major. As a result, I changed my intended major to computer information systems, something I thought would be a safe option to study within my new college.
As it turns out, computer information systems ended up being entirely too technical for someone with absolutely no background knowledge in the subject. I knew that the College of Business was my home because of the welcoming atmosphere and my interests in general business. I felt like everyone around me already declared their major, and had everything figured out. In hopes to get a third-party's opinion, I asked one of my professors for some guidance. He was so understanding and so willing to talk through the labyrinth of things I thought I wanted out of my four years at App. As it turns out, he suggested I look into taking more marketing classes, and eventually, consider a marketing major. After a few weeks in my marketing classes, I knew that I was supposed to be a marketing major, and am ecstatic to be graduating with a degree in Marketing in May.
That professor who guided me as a freshman is scheduled to teach my senior capstone class next semester. Every professor that I've had in my time in the Walker College of Business has made my experience better. Most business professors/instructors have a history in the field, and are willing to relate in-classroom material with real world examples. Overall, the journey to my major was not easy, but I learned something about myself and my desires every step of the way. Thanks to Appalachian's faculty and programming, I am very prepared to use my degree in the field next May!





Emily Sawyer
Senior, marketing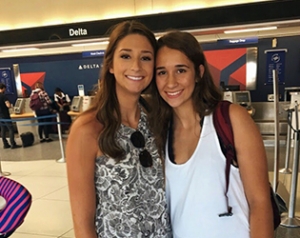 Tags: