Coming to college, I was unsure of what I wanted to study, what I wanted out of my college experience, and how I would make the most of my time at Appalachian. Off the bat, I knew I wanted to be involved in something with greater purpose, something that I could stick with throughout college, something that would make me a better person. Upon discussing these goals with one of my role models, I was introduced to the idea of going through recruitment to join a greek organization. The experience was enriching; I got to talk to so many quality women, learn about what each organization invests their time and money into, and create a foundation for what I wanted out of joining a sorority.
At Appalachian, greek life is similar to a big, loving family. Each organization has their own uniqueness, but our differences bring us together. Other organizations always support each other in philanthropy, in bettering our community, and in bettering our school. There is always room for growth, and the greek community grows as a whole each and every semester. Fraternity and Sorority life councils are dedicated to helping students succeed, creating inclusive environments, and fostering meaningful relationships and lifelong learning. There are over 30 organizations on campus, with over 1,900 students involved. There is a focus on scholarship, service, philanthropy, leadership, and friendship. Not to mention, joining an organization can impact your individual job search, and several of App State's most distinguished graduates are members of greek life.
After joining this awesome community of students, I have made lifelong relationships, held multiple leadership positions, and created a network of people to help me get a job soon! I know that if I had made the decision to refrain from going through recruitment, I would not have had the same college experience. Being that I am a senior, it is going to be incredibly hard to not only leave Appalachian, but to leave my amazing sisters behind. I know that my membership is lifelong not only because of the bid I accepted, but because I have found the women who will stand beside me at my wedding, live down the street from me one day, and be my very best friends no matter what.


Emily Sawyer
Senior, marketing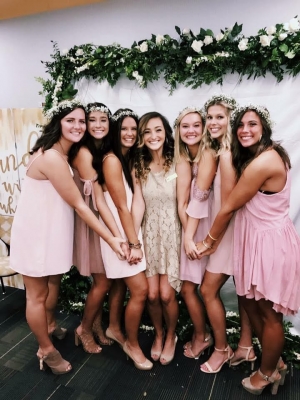 Tags: