Being a college student can be a very stressful time, especially around midterms and finals. With stress, you can become run down and have no time for self care. In turn, this can lead to getting sick and missing class. On average, every class missed is equivalent to $76 being thrown away; I don't know about you, but I personally do not have $76 to just throw away, even when I am sick. So, with that in mind, it is important to take steps in warding off the cold and flu while in school. Fortunately, the steps to fighting cold and flu season are simple and cheap.
The first and most obvious step in preventing sickness is getting the flu vaccine. Many people don't get their flu shot and it's the most simple step in preventing yourself from getting sick. Even for those afraid of needles or who don't wanna deal with a sore arm, just remember you're risking possible weeks of aches, pains, fever, and many other negative side effects of the flu over a day or two of a sore arm or a little poke. For those of you who say, " Flu shots are expensive" or " I don't have time to go get a shot", get ready for some facts. Publix will literally pay you to give you a flu shot. You get a free flu shot with proof of insurance and a $10 publix gift card. Plus, it is roughly a short 10-minute wait. You'll spend more time having to go to urgent care to get Tamiflu when you get sick. So, when you go and get that flu shot, ask for the quadrivalent which is more effective in protecting against more types of the flu virus; don't worry, it's just as free as the standard flu shot. Also, a helpful tip to fight a sore arm to move that arm around throughout the day. I like to go to the gym right after; it really helps the arm keep from getting sore.
Another way to fight cold and flu season is to make sure you're taking care of yourself. I am talking about getting eight hours of sleep, drinking plenty of water, working out, eating right, and de-stressing. All of these things are often easier said than done for college students, but really will make a big difference in your immune system. Just try and improve each thing, and this can improve your immune health and overall health. If you can't get eight hours of sleep, try for an extra hour or try and take a nap. Working out even for 15 extra minutes a day can be beneficial to improving heart and lung health as well as improve your immunity against illness. Eating healthy and nutritious food is very hard for college students, but maybe instead of that cook out milkshake and fries, try eating a few fruits and veggies each day, especially oranges and broccoli which are great for your immune system. Stress is inevitable but try 10 minutes of meditation a day or watch a show on Netflix to relax for a bit.
Lastly, make sure you are washing your hands. This is the easiest part of keeping yourself from getting sick. It's not only important to wash you hands after using the restroom, but also to wash off the germs you have picked up throughout the day. Next time you think about skipping the sink, just remember the next time you're enjoying your lunch, remember everything you have touched throughout the day is now on your food, in your mouth, and going to make you sick.. Follow these simple steps and maybe just maybe you'll make it through a school year without being sick.


Taylor Burgess
Senior, nursing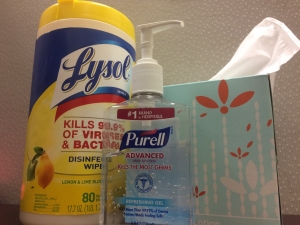 Tags: