Upon coming to Appalachian, I was worried that the winter weather would be a huge adjustment to make, among other things. Being from the southern region of North Carolina, my hometown experiences little snow, and when it does snow, everyone runs to the grocery store to stock up on the essentials - it's as if the town is shutting down. Being that App is in the heart of the high country, the weather is certainly different than what I was previously used to. In my experience as a senior, I have learned that it is important to invest in a good pair of snow boots, socks, and a coat. With those supplies, you can get through just about any and all weather that Boone experiences.
When I was a freshman, in 2014, App State experienced record-breaking low temperatures. I remember all of the emails that the school sent out to best prepare students for the inclement weather. It got so cold that there were signs on all doors exiting dorms that instructed covering all skin - as there was a risk for frostbite! That winter was entirely rare, and Boone hasn't had a similar winter since then. Being such a cold winter, it was a large adjustment for most students and faculty, but the school prepared students well by ensuring that there classes were only held when it was appropriate and doable. That semester, classes were cancelled for two weeks! Professors made the necessary adjustments to their syllabi, and once the snow and ice melted, we went back to classes as usual.
One of my favorite things to do when it is nice outside, is to go on a hike. The Blue Ridge Parkway has so many great spots to admire the beautiful fall foliage, summer breeze, or the white blanket that winter brings. No matter the season, Boone is beautiful and the University ensures that students are best prepared for whatever Mother Nature throws our way. If you're looking to attend college in the mountains, Appalachian is the only option for you. The views are unbeatable, the weather is perfect, and the University will provide you with the best four years of your life.





Emily Sawyer
Senior, marketing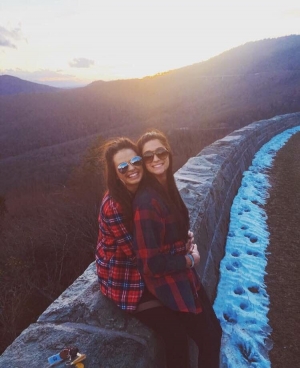 Tags: