Hey! My name is Juliet DeRienzo and I am a junior at Appalachian State University, majoring in public relations with a minor in Theatre. I love soccer, Jesus, my friends and a lot of food.
To begin, I would like to make a statement that is meant to encourage all of you. YOU are amazing and have the ability to do great things. Do not let any circumstances define your future. This is something I have learned at Appalachian State University thanks to Student Support Services.
Neither of my parents graduated college from college – I am a first generation college student. I am telling you this as a testament to my current progress. When I was admitted to App, I was also accepted into the Student Support Services (SSS) program, due to my family's financial situation. The SSS program helps students with academics through tutoring, advising and study halls. However, they have helped me with so much more than that.
My SSS academic advisor, Cathia Silver, has become my second mom away from home. She has helped me with a range of things from choosing classes to simply being someone I could vent to about stuff going on in my personal life. She was so supportive and caring that I found myself making extra meetings with her. She has truly made my college experience a lot let less stressful than it could have been.
The SSS program works with students in multiple facets. I remember one day I didn't have enough time to go home and eat before my next class. It was pouring rain outside, and of course, I forgot a raincoat or umbrella. I didn't want to walk to one of the local restaurants and get soaked, so I sent a quick email to Cathia about my situation. Immediately, she responded and told me to come right over, and she would have food for me. This is the kind of support that the SSS program offers. Not only mentors, but people who truly care about you.
In addition, the SSS program taught me how to take my studies seriously. As a result, I am able to say that I am a first generation student with a 3.98 GPA. I did not know what to expect coming into college, and I was overwhelmed by this. SSS helped prepare me for all types of courses I would take by teaching me good study techniques and time management.
I am beyond grateful for the SSS program; the encouragement and support I have received and still receive from them is what has supplemented my success so far here at App.

Juliet DeRienzo
Junior, public relations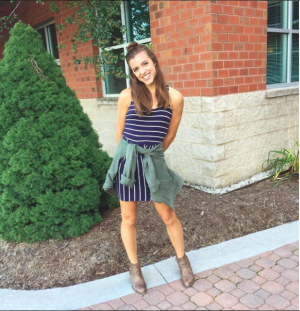 Tags: