Homecoming 2018 is fast approaching and you can literally feel the excitement as you walk around campus! Homecoming is a weekend filled with friends, family and returning students; all coming together to celebrate Appalachian State University. Student organizations are encouraged to find new and creative ways to integrate a specific theme into the lipsyn and banner competitions, parade floats and kazoo bands!
This weekend isn't only for students though; people of all ages have opportunities to participate in numerous events spread throughout this fun-filled weekend:
Friday: Friday is always jam packed with family friendly events like the Homecoming parade, street festival and pep rally! All of the excitement is topped off with a spectacular fireworks show at Duck Pond in front of the stadium!
Saturday: GAMEDAY! Homecoming tailgates are always a good time and the football team puts on an amazing show.
Sunday: There is an alumni luncheon to celebrate Appalachian and the football team's win the day before!
Regardless of age or what you're into, there's always a TON of cool events and exciting opportunities to have fun during Homecoming weekend at Appalachian!

Evan Hager
Senior, business management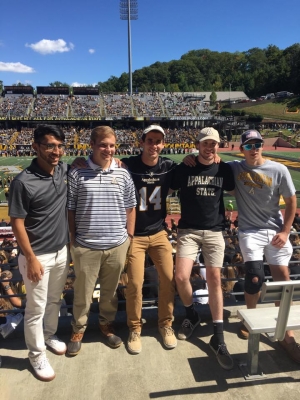 Tags: