I am a freshman here at Appalachian State University and I am going to share a few things with you that have helped me academically this year. I went to a small high school in North Carolina and we never really had much homework so I was a little worried coming to college on what to expect. The first week of classes here were stressful because I didn't really know anyone in my classes and didn't know the campus very well. Here are a few things that I have done so far, and I hope you find these tips helpful!
The first thing I did to help me out a little bit was I walked around campus and went to each of my classrooms. This helped eliminate any first day jitters that you may have and it was so helpful to get a feel for the campus a little bit more. My older sister, Madison, is a senior at Appalachian this year, so she helped me walk around campus. I highly recommend this if you are a first-year student or transfer student!
The second thing I did to help me out was introduce myself to my professors. I can't even begin to describe how helpful this is. This has helped me because I went to my professor's office hours all last semester and my professors really got to know me and who I am as a student. At the end of fall semester, I emailed one of my professors if they would be willing to bump my grade. My professor knew that I worked hard all semester and they knew that I had come to office hours, help labs, and had a tutor. My professor was willing to bump my grade because of this.
The third and final thing I did to help me is, like I said before, go to office hours and help labs. This makes a lasting impression on your professors and really shows that you care about the class and your grade. Office hours are not just to ask your professor questions, but you can also get to know them and make a connection with them. The help labs are also very helpful because you get to work with other students who are proficient in the area that you need help with. I have gone to the math help lab many times and my grade has improved significantly. Your professors can also see when you attend a help lab, so it's a win win situation!
These are just a few things that I have learned last semester and the majority of this semester. I recommend using these tips for a successful first year at Appalachian! There are many more things that you can do to help academically, but these three things I have found work best work for me!

Jacqueline Bernier
Freshman, psychology-health studies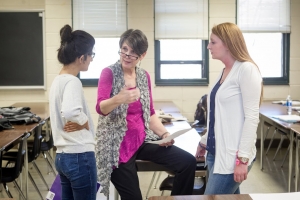 Tags: