The first thing that on my checklist after coming to Appalachian State University was finding a gym I could make my gym home. When I found out that Appalachian had more than one gym, I was definitely excited! The three gyms here are spread out across campus, making it easy to find one close by. The three gyms on Appalachian's campus are the following: the Student Recreation Center, Quinn and Mount Mitchell.
The Student Recreation Center is probably the most popular of the three because it is the main gym on campus. It has a full track, swimming pool, rock climbing wall and basketball courts. My favorite part of the SRC is probably the actual gym area; there is a full weight room as well as cardio machines. There are so many options for all students that range from squat racks all the way to row machines. If you aren't into weights, there are also fitness classes available to students such as zumba, yoga, bootcamps and barre. This gym is my favorite of all the gyms on campus.
Quinn is the gym that is close to the football stadium. At this gym there is a huge weight room, cardio area, aerobics room and racquet ball courts. This gym is a good place for those that enjoy lifting weights. In this facility, you are allowed to deadlift, unlike at the SRC.
Lastly, Mount Mitchell is located on the third floor of the student union and is perfect for the busy student who still wants to remain active. At this gym, they have rows of treadmills and ellipticals. They also have different weight machines, like a leg press, cable machine and so much more. I go to this gym between classes if I have a busy day because it is in such a convenient location.

Justina Ruscio
Junior, management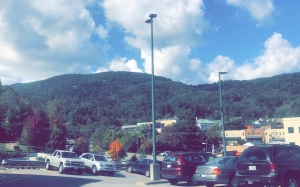 Tags: