One of the best events that Appalachian State University holds annually is the Club Expo. Here at Appalachian, we have over 400 club offerings for our students. During your first year, this can sound quite intimidating. This is one of the greatest opportunities we offer here and it is the easiest way to get involved on campus and meet new friends. As a junior, I still go to every Club Expo. There are always new clubs being introduced and you never know what you will find at the expo!
An important aspect to the Club Expo is to do some research before the event. If you go and have no idea what clubs you are even interested in, it could be a little intimidating. I recommend going to our campus activities website and browsing through the club directory. This is a fantastic way to look for clubs that peak your interest and find one that you are interested in becoming a member of. The club directory has a list of every single club that is offered on our campus. You will also be able to view information about every club and find contact information for the club executive members. It's also a good idea to send a club executive member an email stating your interest in the club! Ask them questions and let them know that you plan to stop by their table at the expo!
During my freshman year, I knew that I wanted to join a club that was outdoor-based, but had no clue what I was interested in. I started to dig through the club directory and found the fly fishing club. This immediately peaked my interest and I decided that I wanted to find out more information. I had never been fly fishing before, even though I was an avid saltwater fisherman. In order to find out more details about the club and what they are about, I emailed the president and asked a ton of questions. After speaking with the president, I was more intrigued and decided to go to the Club Expo. Once I met all the members, I was hooked. They were so helpful and all of them were willing to teach me how to get started catching fish on the fly. I was so excited and I was very happy that I attended the expo. This event immediately introduced me to a new group of friends that I now consider family.
Since my freshman year, I have grown more with the club and it has been amazing seeing our club grow bigger and stronger. With all of this in mind, I highly recommend going to every club expo you can! Get involved and make a difference on this campus! You'll also make a lot of new friends along the way. So, do your research, attend the expo, and get involved.
Hunter Burkitt
Junior, communication studies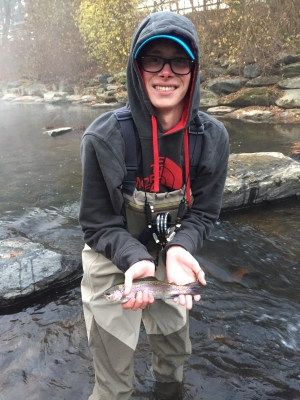 Tags: