The most common piece of advice I heard from people about coming to college was "get involved." Honestly, that statement intimidated me. I felt this expectation to be a scholar student and balance five clubs on the side. I noticed I began using this fear as a crutch. I still went to the club expo but I became too nervous to step out of my shell and try one of them. As a result, my first semester consisted of school, eating at Roess and watching Netflix in my dorm.
Nothing is wrong with simply attending school and watching TV in your dorm, however I began feeling a sense of FOMO (fear of missing out). One day, a girl on my floor was talking about how much she loved practicing with the women's club soccer team and asked me to come out to practice. I said yes because I wanted that community that comes with joining a club. I immediately fell in love and became very dedicated to the team. Afterward, doors started opening up all around me. I began doing intramural soccer and volleyball on my weekday nights. The best part of this was, I was balancing it all very well; I made straight As that semester!
As I went through my college years, my interests began to expand. Due to time confliction, I stopped practicing with the women's club soccer team, but they will always have a special place in my heart. In my sophomore year, I tried the Hispanic Student Association a few times and attended their fun events! In my junior year, I became a writer for the arts and entertainment desk at App State's student newspaper, the Appalachian. At the end of my junior year to now as a senior, I got involved with App State's television channel, AppTV.
I have concluded that if I would have never stepped out of my comfort zone to try a club, some of the friendships and opportunities I have now, would not exist today. I am so grateful for the 400+ clubs offered on campus, because it has helped me grow into the person I am today. My piece of advice to you is get involved and don't be afraid to try new things!




Juliet DeRienzo
Senior, public relations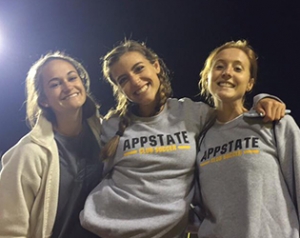 Tags: