I'm going to get real with you about one of the most important things you need to know about Boone and what it has to offer: the food. A meal can create an entire set of memories, whether you're out with friends, your family or a significant other. The relationships that are most important in your life can grow and flourish over a beautiful meal out, and Boone has some high quality choices to offer. When you're wondering where to go when your family come into town, this list is here to spotlight some of Boone's restaurants as well as top recommendations from their menus. Get ready for these choices, they will have your mouth watering by the end of this:
1. Red Onion
This Boone staple is the perfect place to have your parent's take you to when you have not seen one another in a while. They have a wide variety of options on their menu including pastas, sandwiches, wraps, fish and pizzas.
Recommendation: Florentine Wild Mushroom
2. Proper
This quaint house has the definition of southern charm between the decor and their menu. You can order a plate that could include meatloaf, catfish, pulled pork, fried chicken, a delicious burger and more.
Recommendation: Meatloaf with sides of White Cheddar Mac and Cheese and Collard Greens.
3. Our Daily Bread
A place everyone knows prior to coming to Boone-- a sandwich shop like no other. The atmosphere is lively and perfect for a reunion of any sort. The soups, salads and sandwiches are out of this world, but thankfully we can find them in Boone.
Recommendation: Ham Smoked Brie Croissant
4. Pepper's
Pepper's has been around since 1975, and their reputation speaks to the quality of their food and service. Pepper's has a menu item for everyone that is equal in quality and taste, whether you decide to get the Shrimp and Grits or a Flatbread Pizza.
Recommendation: French Onion Soup with The JP Flatbread Pizza
5. Melanie's Food Fantasy
If you have family coming into town on a beautiful sunday morning, Melanie's is the place to go. Their brunch menu is unlike one you have ever seen, and you cannot go wrong with anything you order. They recently expanded their menu to include lunch Thursday-Saturday until 5 pm, which is equally satisfying.
Recommendation: Melanie's Stuffed French Toast
6. Coyote Kitchen
Let's talk spices; this place knows exactly what types of flavors and spices pair together perfectly. Between their salads, burritos, bowls and boats you are guaranteed to drive your pallett wild.
Recommendation: Sedona Bowl

These restaurants will satisfy the pickiest of guests and will help you select the top choice. There are so many amazing restaurants in Boone, and this is just a select few to give you an idea of what Boone has to offer.


Elizabeth Faile
Senior, marketing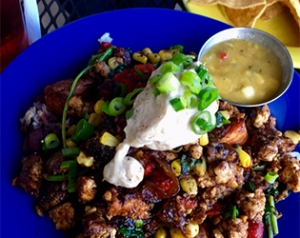 Tags: