I tend to be super busy during the week, so when the weekend rolls around, I love to explore Boone and what all it has to offer. I have lived in Boone since August 2018, so I have had my fair share of weekends here. I'm sure a lot of people have told you that during freshman year, you aren't supposed to go home all that often. That is true because it will make you more homesick, which will lead you to want to go home even more. I only went home a few times first semester, and I have only been home once this semester. I don't go home all that much, to begin with, because of all the fun activities in Boone. So, let me tell you all the fun things there are to do in Boone on the weekends.
One thing I love to do on the weekends is drive through the Blue Ridge Parkway and have a picnic with friends. We do this almost every weekend and go watch the sunrise or sunset. This is my favorite thing to do in Boone because it is so relaxing and the view is absolutely amazing. Who else can say that they live in the mountains at school?! Usually, once we're done eating, we'll blast music through the parkway then take pictures with the sunrise or sunset. This never gets old and the view is stunning!
Another thing I love to do on the weekends is to go out to eat! This is probably bad for me, but there are so many good restaurants in the Boone/Blowing Rock area and you have to try them out! My favorite restaurant in Boone is probably Our Daily Bread. They have the best grilled cheese and tomato soup ever. It's perfect for a cold, snowy day during winter in Boone. I love eating there or Ale House for 45 cent wings on Thursdays. There are so many more places I could list, but those are definitely my top picks near campus!
One other thing that I love to do on the weekends is go hiking. There are so many hiking trails to pick from around Boone, so it never gets boring. My favorite hiking trail in Boone is Elk Knob, which is about twenty minutes away from campus. You have to drive to most of the trails, but that encourages you to make friends with people who have a car! Hiking is such a good way to work out and get your blood moving from sitting in class all week. I usually only hike when the weather is moderately warm, so during the winter, this isn't something I do all that much. I hope to continue hiking throughout the rest of my time here at Appalachian.
I hope you'll get to experience some of my favorite things to do in Boone on the weekends when you come to App! These are just three amazing things about Boone, and there are so many more! Boone is the best place and I hope you'll love it too.

Jacqueline Bernier
Freshman, psychology-health studies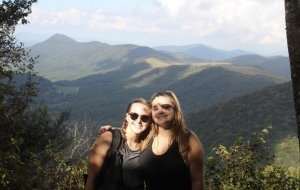 Tags: