August 17, 2015 was the day I looked forward to for a whole year; I sat in my high school classroom dreaming about what my college dorm room would be like. I can remember constantly texting my college roommate to get ideas of colors, furniture and decorations to bring to make our room the best. I took endless trips to Bed Bath and Beyond, grabbing a dorm room checklist each time.
I can remember the feeling I had on move in day: excited, yet, eager to find out what my room looked like in person. When I walked in, I was amazed. The room was much bigger than I imagined; however, the best part about it was the large personal bathroom just two steps from our door. It seemed almost too good to be true!
After moving all of our stuff in, we were puzzled at where to begin. Where would we move our beds? Would we bunk them? Would we use our desks? Where did the mini fridge and microwave go? We began working hard at organizing, and within two hours, we finally completed arranging our room. After a million boxes and trash bags full of packaging, we were all set up in Lovill 315 for a year full of experiences of freshman year at Appalachian State!


Taylor Foulk
Junior, marketing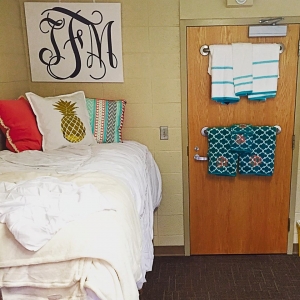 Tags: