The first few weeks of college is where you usually get an idea of what you want to make out of your four year college experience. For me, the search took a little time. I went to various club expos on campus, various sporting events, and other group events that the campus held for incoming freshmen. However, I didn't particularly see myself in any those organizations. They were great organizations, but I wanted more, and that's when I decided to go through fraternity recruitment on campus.
The people is what drew me in the most to joining my fraternity. The members and alumni are my brothers, and I knew that I would enjoy my college experience alongside this group of men. I have met some of my best friends and a lot of people who I would not have met without joining the fraternity. Outside of my fraternity, the Greek community here in Boone is incredible. Being a part of a close Greek community at Appalachian State University is one of the best decisions that I have ever made.
Three years later, I am the Vice President of Kappa Alpha Order and the Vice President of Academic Affairs on the Interfraternity Council (IFC) here on campus. As a brother and leader in KA, I have been involved in various philanthropy and service events, leadership conferences, and various other Greek wide opportunities held on campus. If you are ever given the chance to experience, or join a Greek organization on Appalachian's campus, take it!

Timothy Mills
Junior, accounting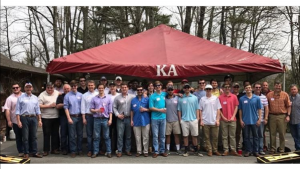 Tags: