Ah, fall. The air is crisp, the temperatures have dropped, and all things pumpkin flavored are being devoured. And with the start of cooler weather comes a Mountaineer fan favorite: football season.
Football at most schools is generally anticipated, but there is truly nothing like Appalachian State football games. In truth, it is hard to describe the feeling I get with each game. Each game day begins with an immense amount of pride and support for our team.Fans go above and beyond – painting their face and body, wearing various shades of yellow and black. Students and alumni sing the fight song at the top of their lungs, literally screaming their support for our team. Everyone runs around with a happy, giddy energy that is contagious.
And tailgating? Well, it should be noted that Mountaineers take tailgating very seriously. It's hard to resist good friends and food, and you are sure to find food and fellowship on any given game day. Fans set up tailgates literally all over campus – from Rivers St. parking deck to Duck Pond field. The music is loud, and the atmosphere is unrivaled. My favorite part about tailgating at App? Each week, the Student Government Association hosts a tailgate lottery. If you are a student that does not want to spend money on a tailgate spot, you have the opportunity to enter the lottery and possibly win a spot free of cost.
On top of that, the familiarity and history in our school's game day traditions make the games that much more exciting. Each season, the program promotes a "black out" and a "white out" game. For these, fans ditch any other colors and wear all black and/or all white T-shirts. Furthermore, App's homecoming football and accompanying spirit week are two of the most fun events all year round. Several different organizations come together to make sure Homecoming week is filled with fun, free events for students. My personal favorite? App's annual kazoo band concert and contest!
Unity is a common theme for game days on our campus. The love for Boone, our school, and the football program certainly shines through each tailgate and fan. Everyone comes together to be a part of something bigger than themselves. And to be a part of something bigger than myself, well, that is a feeling that I will crave forever.


Madison Barlow
Senior, recreation management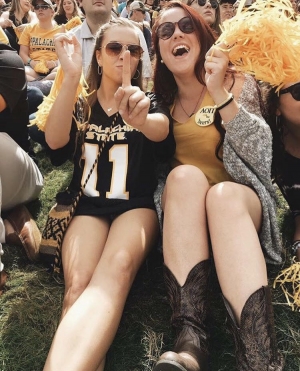 Tags: