The atmosphere for Appalachian State home football games is really unlike no other. The passion and love for our football team is no less than any other school. I even experienced it last home football game. There were many dedicated fans already tailgating early in the morning for an afternoon game; already grilling hotdogs, hamburgers and enjoying the company of other tailgaters surrounding them.
Most tailgaters had App State flags flying around their cars and buses. Appalachian yellow school buses pulled up with Yosef painted on them and some tailgaters even brought mobile homes. All tailgaters socialize with other tailgaters even if they might be complete strangers, because on this day, everyone has the one similarity: their love for App State. Even if there are other fans pulling for the opposing football team nearby an App State tailgate, App State fans will not hesitate to make them feel included while tailgating.
There are multiple places on campus to tailgate, including, but not limited to, the library parking deck, Raley parking lot and the stadium parking lot. Everyone is all decked out in black and gold to support our football team. Some wear App State football jerseys while others are dressed up in black dresses with gold accents. While getting pumped for the football game, tailgaters are most famously known for playing multiple games of corn hole with corn hole boards displaying the App State logo.
Music is a huge part of tailgating at App State, because it is an easy way to pump up the tailgaters for the football game. Another common thing that happens at App State tailgates is chanting the university's famous cheer. One part of the crowd will shout, "APP," while the next will shout "STATE!" It is so much fun!
One of the best parts about tailgating at App State is the delicious food. From grilled hot dogs and hamburgers to a variety of chips and dips, the amount of food to choose from is endless. Some tailgaters even choose an easier, but in no way less delicious route, by ordering a tailgate box of food to share with everyone under their tent. Personally, I know that this is my favorite part of tailgating before the game because the amount of food that is socially acceptable to consume is comparable thanksgiving.
But the absolute best part about tailgating is building the excitement of the football game and bringing it into the stadium to support the boys in a victory!

Sarah Saunders
Senior, marketing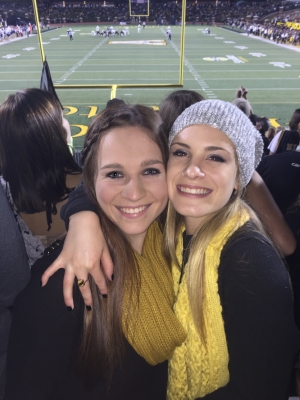 Tags: