Most four-year universities require their first-year students to enroll in a seminar course that interests them. However, one thing that is unique about Appalachian State University is the variety of first-year seminar courses that we offer. First-year students at Appalachian are encouraged to choose a seminar course that strikes their interest. Here at Appalachian, we pride ourselves on the diverse interests and personalities of our student body.
During my first year, I had the opportunity to take "Rock Lyrics: Society and Culture," as my first-year seminar course. This has been one of my favorite course that I have taken while at Appalachian. My professor covered the history of rock music from rockabilly all the way to current rock music by studying lyrics, different artists and the cultural impacts of rock-and-roll. I was initially interested in taking this course because I love listening to rock music. However, it didn't occur to me that we would be studying the history of rock-and-roll. I became fascinated with studying how music can impact our culture in ways that we do not realize. Because I took this course, I have continued to analyze music as a major cultural impact within American culture throughout history as a history education major!
"Rock Lyrics: Society and Culture" is still a course that is offered as a first-year seminar here. Fortunately, if rock music is not one of your primary interests, you have many other first-year seminars to choose from. Trent Margrif teaches a course called "The Time Machine" which discusses the engineering, physics and philosophy about the potential for human time travel while comparing world cultures historically. Dr. Anindita Das offers a course called "Climate Change" where students can debate the effects of climate change and the decisions and policies that make an impact. Dr. Donald Presnell teaches the course "Dr. Seuss And Y(our) World" where students have the opportunity to study the very complex stories and narratives written by Dr. Suess.
As you can see, the variety of first-year seminar courses that we offer are very broad and provide many opportunities for first-year students. I thoroughly enjoyed my first-year seminar, so I encourage you to research the available courses to see which one sparks your interest!


Hannah Emerson
Senior, history, secondary education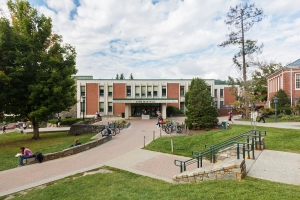 Tags: